* All December Puppies Have New Homes.  

Please Check Back In 2018 For Our Puppy Availability *
Our Full American Golden Retriever Puppies Have A Medium and Dark Golden Coat.  
Our 1/2 European Golden Retriever Puppies Have A Creme  to A Light Golden Coat.  
Klondike X Sampson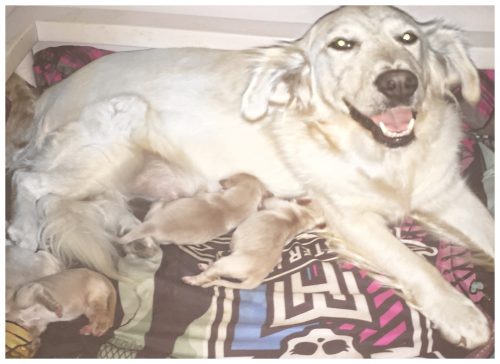 ~Sir Sampson Of Thunder Ridge
Akc#SR50570006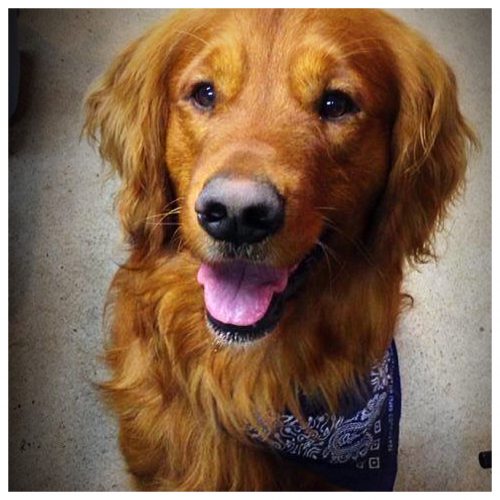 Week 6 ~12/04/17
WEEK DEVELOPMENT OF THE PUPPIES
Growth and development continue
Puppy Toddlers: During the Toddler period, puppies emerge on their own from the litter. They venture into the surrounding environment. This emergence from the litter is a gradual and continual learning experience. During this stage of development puppies learn basic behavioral patterns specific to dogs. While playing, they practice different body postures,  learning what the postures mean and how they affect their mother and litter mates.
Video's☟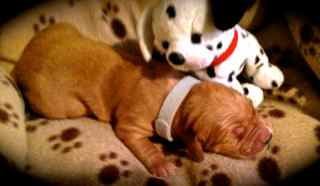 All of our puppies leave to their new homes and are vet-checked, vaccinated, dewormed, and with basic information on crate training and puppy rearing.  We encourage our clients to rely on us for lifetime support for rearing their new Golden Retriever.
Frequently Asked Questions…
Q:  What methods of payment do you accept?
A:  We accept cash, bank checks and paypal (paypal fee 3%) for deposits.  Sorry, but we no longer accept any personal checks on the final payment.
Q:  When can I take my puppy home?
A:  The gestation period (the time from conception to birth) for the puppies is about 2 months.  Puppies are usually ready to leave for their new homes 8 weeks after they are born.
Q: What should I have ready for when I bring my new puppy home?
A: We recommend having the following on hand when you bring your puppy home:
2.  A crate for the puppy to sleep in (we recommend crate training).
3.  A freestanding pen to provide a safe play area for your puppy.
4.  Toys:  We recommend Nylabone and Kong chew toys, Jolly balls, and ropes for first toys, because they are durable, safe toys for puppies.  (Avoid rawhide toys, as they can cause serious digestive tract problems for dogs).
5.  A collar and a leash.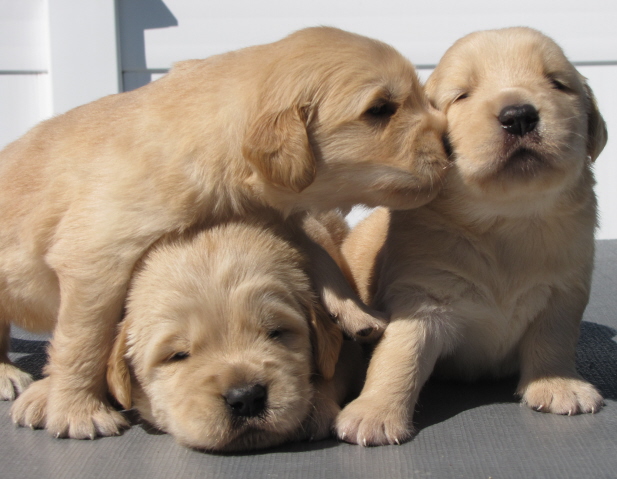 We Match The Puppy To The Family After Reviewing The Online Application.
*Note: We are unable to allow visitors until the puppies have received their first puppy shots.  This is for the litter's protection against airborne viruses such as parvo. Thanks you for your understanding.  Puppies are ready to be picked-up at 8 weeks old.
**PLEASE NOTE: If it is necessary for the puppy to stay beyond this age, there will be a $10 per day boarding fee.

Our Golden Retriever dog's have personalities and temperaments that are loyal, high in energy, and playful. While the Golden Retriever is a good watch dog, they tend to be lousy guard dogs. Due to its friendly nature, the Golden Retriever tends to interact well with other dogs.

A Golden Retriever Breeder offering quality AKC Golden Retriever puppies to Select Homes. We have the perfect combination for your family: Health, outstanding temperaments, intelligence, & stunning good looks. Nicely Pedigreed.  Golden Wizard's Kennel sends puppies home with AKC limited registration.  Full registration is not available on our lines.
If you are interested in a puppy please email akcgoldenpups@icloud.com for our puppy availability.