WizardWag Of PEBBLES
GOLDEN RETRIEVER FEMALE MD GLDN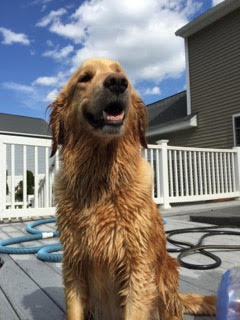 Pebbles
"Pebbles" is AKC registered and has a very soft playful spirit and loves everyone. 

She loves

 the water! She enjoys playing with kids and is such a sweet girl.  

Pebbles does not know a stranger and loves everyone.  She is the eager to please and highly intelligent.  Pebbles has the coveted beautiful honey color.  She is more petite and has the sweet face that Golden Retrievers were originally known for. 
Pedigree of " WizardWag Of PEBBLES"

Parents
GrandParents
GreatGrandParents
SIRE

SIR RUSTY THE GREAT V111

SR41471201(07-08)

SIR BAXTER THE GREAT
SN06125009 (07-07)
LAWDAWG WYATT EARP
SN57614409 (11-99)
SPEEDY MADISON CHASE
SN57052505 (09-01)
LIBERTIBELLE FREEDOM OF CABOT
SR06125009 (07-07)
GOLDENWISH READY WILLN ABLE
SN10602004 (07-95)
OAKLEY OF BAILEY'S GOLDEN OAK
SN35486802 (02-00)
DAM
SADIE LILLIE OF THE BERRY FARM
SR41701401(07-08)
EDGECOMBE RUSS' MORNINGSTAR
SN63568103 (08-01)
GEMSTAR'S INDIGO BLUE
SN08311106 (04-96)
EDGECOMBES COVENTRY CLODAGH
SN19950401 (07-99)
LILLIE OF THE MORNING STAR
SN78323312 (05-02)
ROSIE'S BEST BUDDY II
SN35675208 (07-98)
BRANDY OF THE MORNING STAR
SN46239101 (02-00)